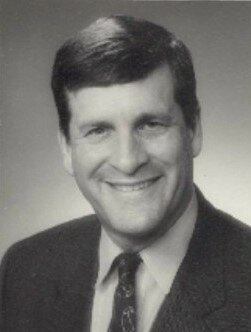 Obituary of Roger W. Jolliffe
Roger passed away peacefully, surrounded by his loving family on Friday, August 27th in his 77th year. He was a wonderful husband and a proud father and grandfather. The day before he died, he stated "he had a perfect family". His was truly a life well-lived.
Roger is survived by his wife Judy, daughter Jennifer, son-in-law Ryan, grandchildren Jack and Kate Blain, and his brother Tom Jolliffe. Much loved by his sisters and brothers-in-law Janet and Dwayne Linner, Lori and Brad Turner and cousin Linda (Bob Logan 2015). Also missed by his many nieces and nephews who were always entertained by his whistles, pops, and bird noises. Predeceased by his parents Ewart and Lillian Jolliffe.
He was an actuary who held a variety of positions over his 33 year career at London Life ending as Vice President and Senior Actuary, Corporate. Before retiring, he spent 4 years as a Chartered Financial Planner with the Lance Howard Group.
Near and dear to Roger's heart was singing tenor with the Canadian Celtic Choir where he was the treasurer and on the executive board for many of his 19 years. The choir's tours to Hawaii, Scotland and the Maritimes were special events in his life. Another favourite pastime was playing duplicate bridge either online or with friends at the London Bridge Centre where he and Judy were the co-librarians managing a collection of over 1000 bridge books. Always a sportsman, Roger, nicknamed Moose, played fastball with the London Life Electrons in his prime and co ed slow pitch with many family members in later years. He was an avid golfer and greatly enjoyed traveling to play different courses with his regular group called RANT.
Roger and Judy were dedicated walkers. They not only hiked local trails, but also enjoyed many group hikes throughout Europe. After completing a multi-year objective of walking every street in London, they were celebrated in the London Free Press. In typical Roger fashion, this feat is well documented, as it was his obsession to keep spreadsheet details of every walk taken over the years.
Roger has maintained many friendships from the time he was a youngster on the farm in Crumlin to present day. Recently, those friends have described him as a kind, thoughtful, genuine and unique person – a gentle gentleman.
Over the last 15 years, the most precious time of all has been spent in the Turks and Caicos where Ryan, Jen, Kate and Jack reside. Beautiful beach walks, magnificent meals, playing cards and board games, picking the kids up at school, getting to know their friends and involvement with their many activities were visit highlights. Nothing was better than that.
He was loved by all who knew him and will be sorely missed.
Donations to The Thames Valley Trail Association, 1017 Western Road, London, N6G 1G5, The Canadian Cancer Society,201 King Street, London, ON N6A 1C9 or Lambeth Lions Memory Box Program, c/o Dale Taylor, 59 David Street, London, ON N6P 1B3 would be appreciated.
Cremation has taken place and a celebration of Roger's life will be announced at a later date. On-line condolences are available through www.mcfarlane-roberts.ca. McFarlane & Roberts Funeral Home, Lambeth, (519) 652-2020 in care in arrangements.
To send flowers to the family or plant a tree in memory of Roger Jolliffe, please visit Tribute Store