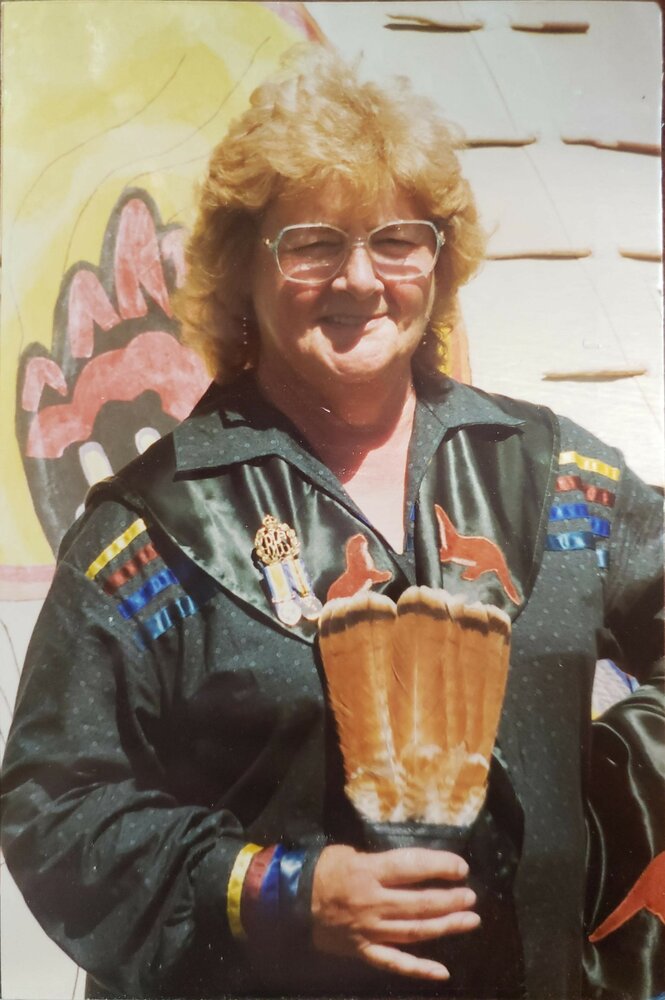 Obituary of Patricia Elizabeth Hearns
Patricia Elizabeth Hearns
It is with much sadness and love in our hearts, that we announce the passing of our witty, wildly hilarious, tougher than her manicured nails, beloved matriarch, Patricia Elizabeth Hearns (nee: Webster). She left us in the midst of a thunderstorm, early in the morning of September 13, 2021. A veteran of the Royal Air Force and member of Alderville First Nation, she is survived and loved deeply by her husband of 68 years, Samuel E. Hearns. She will also be dearly missed by her children Lorry Lourie (Brad), Rose Robinson (Rick) and Michelle Yeck (Bond) as well as her seven grandchildren Erin, Mike (Breanna), Jeremiah (Nicole), Josh (Kristine), David, Sara Mai and Felicity, and nine great-grandchildren Mia Rae, Luke, Logan, Bentley, Lily, Dallas, Willow, Sage and River.
Born in 1932 in Tottenham, England, Patricia was evacuated as a child during WW11, and in her youth studied dance, costume and drama, as well as travelling in a theatre troupe. She joined the Women's Royal Air Force in 1950, later becoming a military policewoman. This career found her hanging out at a Veteran's Club in London, England where she met an Ojibwe-Canadian soldier, and the love of her life – Sam. They were married in 1953, and Pat emigrated by ship to Canada in 1954 and became a member of Alderville First Nation.
In the late 70s, Sam began reconnecting to his culture through Powwows, and Patricia cherished the friend and kinships she made on the Powwow Trail as a veteran flag carrier and vendor.
Pat and Sam were invited to be representatives of the National Aboriginal Veterans Association in the 1990s and when NAVA retired in 2011, they became National Service officers for the Canadian Aboriginal Veterans and Serving Members Association for London, surrounding First Nations and counties.
Patricia loved to sing and bake and was a diehard scratch ticket player. She was a proud veteran, judo brownbelt, Girl Guide Leader and Block Parent, but her greatest pride was for her husband, daughters, grandchildren and great-grandchildren.
She lives on in each of us, her love, her wisdom and her wit.
A celebration of life will be held for family at a later date.
Donations can be made in Patricia's memory to the Alzheimer's Society, 435 Windemere Road, London, ON N5X 2T1 or the Royal Canadian Legion National Poppy Trust Fund, 86 Aird Place, Ottawa, Ontario K2L 0A1. On-line condolences are available through www.mcfarlane-roberts.ca. McFarlane & Roberts Funeral Home, Lambeth (519) 652-2020 in care of arrangements.
To send flowers to the family or plant a tree in memory of Patricia Hearns, please visit Tribute Store