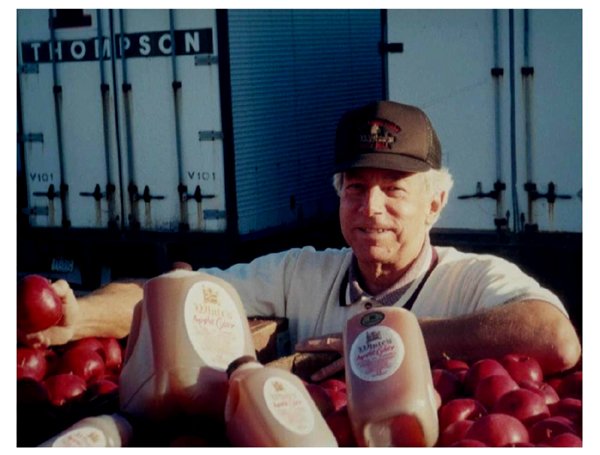 Obituary of Lorne White
(CHARLES) LORNE WHITE February 12, 1934 - June 22, 2020
After a lovely Father's Day with the four he held most dear, Lorne drifted away peacefully at St. Joseph's Hospice on Monday, June 22, 2020.
He will always be loved by his wife of 62 years, Velma, and his daughter Darlene, her husband Ernesto, and his cherished grandson, Aidan. He will be dearly missed by his sister Marie and her husband Gene, who had a lovely visit with him just days before he went into hospice, and his many nieces, nephews, friends, and neighbours.
Lorne was born February 12, 1934 in a farmhouse in Westminster Township close to where he has lived in Scottsville for the last 53 years. Family folklore says it was so cold that winter he was kept warm by leaving him on the door of the wood-burning stove.
Lorne was influenced by his parents, Allan and Mae White, who were hard-working farmers, market gardeners, and entrepreneurs. At one point, Lorne worked at the Kelvinator plant, had over 100 head of beef cattle on three different farms, and ran his apple cider business--which he started at age 14 with his brother, Don--on the side.
Lorne and Velma married in 1958. She was the local school teacher at the one room school house in Scottsville and she taught his younger sister and brother, Ruth and Verne. Apparently matchmaker Ruth offered the services of her brother Lorne to give Velma a ride to school for the annual Christmas Concert and "the rest is history".
In 1975, Lorne and Velma opened White's Cider Mill as a full-time business, an endeavour he worked at for over 60 years all together until he finally retired at the age of 78. Lorne made lifelong friends with local apple growers, his many loyal customers, and especially those in his employ throughout the years.
Lorne was known to be a kind and gentle spirit who never made too much of a fuss. He worked steadily, tried to take a nap when he could, and always found satisfaction in the simple things in life. He liked nothing more than drinking a cup of coffee with whoever dropped in at the mill or the house. He enjoyed fresh grown produce, home cooking, and requested rhubarb custard pie "like his mother used to make" in his final week at home.
Lorne loved animals, especially horses. As a young man, he raised a big-boned thoroughbred gelding named Red and rode him to round up the cattle at night. His "second" Red was a beautiful sorrel quarter horse that, after being seriously injured, Lorne tended back to health for many more years of contented retirement on the farm. If Lorne had one idyllic dream, it might have been to be a cowboy.
Lorne was profoundly affected by the loss of his brothers Don, Harold, and Verne and his sister Ruth as well as his nephews Tom, Al, and Ron. He will be happy to see them again.
Due to current public health restrictions, there will be no visitation or funeral service at this time. Those wishing to join the family in a car processional to White Oak Cemetery may come to the family home at 5224 Colonel Talbot Road on Friday, June 26, 2020 at 10:30. The procession will be leaving the family home at 10:30 am to arrive at White Oak Cemetery where the graveside service will commence at 11:00 am. The thoughtful family will be offering a "box lunch" for your enjoyment following the service, keeping social distancing in mind please.We will leave together and pass by the back of the farm on the way followed by a brief socially distanced interment service at the cemetery at 5181 White Oak Road.
Those wishing to make a donation on behalf of Lorne may consider donating to St. Joseph's Hospice, https://www.sjhospicelondon.com, Saint Elizabeth Health Care https://sehc.com, or London Regional Cancer Program https://www.lhsc.on.ca. Our thanks to all those who have cared for Lorne over the last number of months. McFarlane & Roberts Funeral Home, Lambeth, 519-652-2020 in care of arrangements. On-line condolences are available through www.mcfarlane-roberts.ca.
To send flowers to the family or plant a tree in memory of Lorne White, please visit Tribute Store
Graveside Service
10:30 am - 11:00 am
Friday, June 26, 2020
White Oak Cemetery
5181 White Oak Road
London, Ontario, Canada