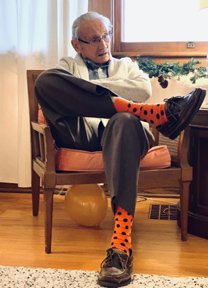 Obituary of Palmer Newton Dique
Palmer Newton Dique
My dad's travel through life ended this week on Monday 18 Nov 2019.
Palmer Newton Dique was a unique man driven to lead, he would cajole to control and to follow his rule was paramount to survival. I learned early, I was lucky.
Born in 1928 to Louis Digue, a recently arrived French immigrant, and Florence Palmer of Orillia, his good fortune had him raised in a stable and prosperous home in Collingwood.
He loved his parents, his kids, their kids and their kids, his dogs, efficiency, baseball, Bob McCowans sports talk show, routine, his workplace achievements, tidiness, ketchup, his various GM cars, blond hair, parades, car rides, his former and present homes, the music of Frank Sinatra, humorous dinner speeches, overcooked steak, his children's sporting accomplishments, his doctors and as of late diet Pepsi
He led a life of his choosing, worked hard, loved many, he was predeceased by son Peter, wife Jean, wife Glenda and last best friend Newton, a 15 year old chocolate lab.
He is survived by son Paul, son Jeff, daughter Suzanne, grandson Andrew, granddaughter Morgan, grandson Patrick, grandson Nash, grandson Carson, great granddaughter August, great granddaughter India, great grandson Ocean, great grandson Wells and spouses of said married.
At Palmer's request there will be no visitation or Funeral Service. A gathering to reminisce and rekindle Palmer's life will occur at my home in London. Date yet to be determined. All are welcome to join.
Palmer's ashes will be combined with Newton's and together they will be interred in Orillia on the Palmer plot above his grandparents adjacent to his parents
Jeff Dique
On-line condolences are available through www.mcfarlane-roberts.ca. Click on "Tribute Wall" and write your condolence or message in the top box.
McFarlane & Roberts Funeral Home, Lambeth, 519-652-2020 in care of arrangements.
To send flowers to the family or plant a tree in memory of Palmer Dique, please visit Tribute Store