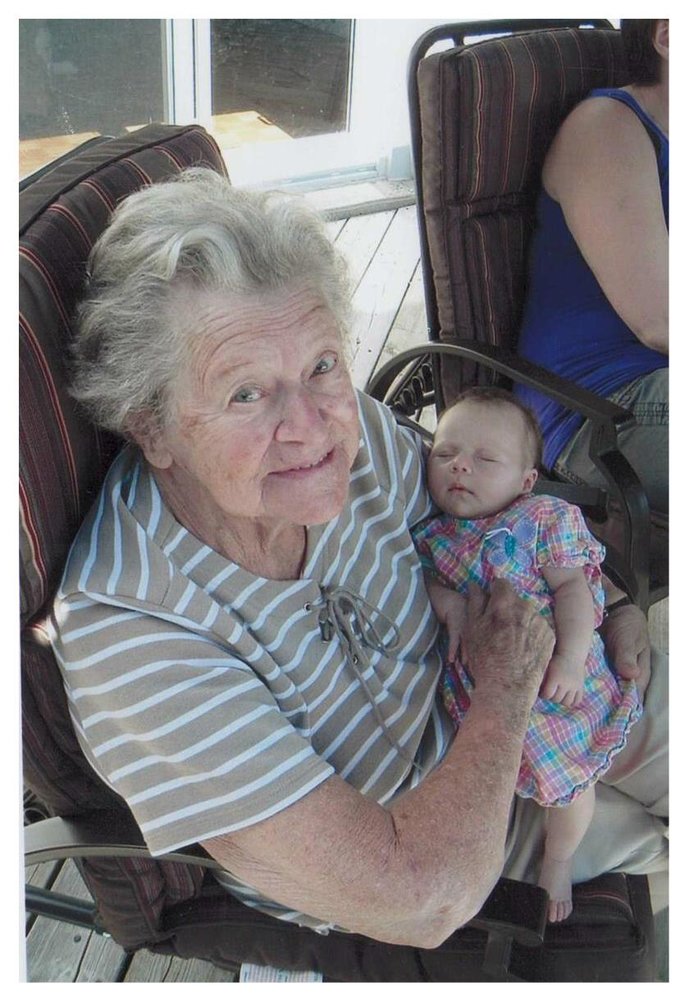 Obituary of Barbara Geraldine Sheppard
Barbara Sheppard
Peacefully, with family members beside her, Barbara Geraldine (Gerry) Sheppard, 93, passed away on Nov. 2 at Ashwood Manor in Lambeth, Ont.
Gerry was born in Blenheim, Ont., to William Lindsay and Frances Geraldine Shillington on May 9, 1926. She went to high school in Blenheim before graduation in 1948 from the University of Western Ontario with an honours BA in languages (French, Spanish and Italian).
A month later, she married Reid Hurst Sheppard, whom she had met when he was on leave from serving in the Canadian Navy during the Second World War. Three children (Jim, 1949; John, 1951; and Lynne, 1954) soon followed. Gerry was a long-time French teacher in Sarnia after the children were grown, having taught at a variety of schools in the city and Lambton County.
Gerry was a devoted mother, grandmother, great-grandmother and great-great-grandmother to a family that eventually numbered more than 30 direct descendants and spouses.
She and Reid were loving parents, who also welcomed into their home and their hearts a wide variety of their children's friends, as well as cousins, classmates, girl-friends, boy-friends and others. Anyone who needed help, a friendly pat on the back, advice or just an ear to listen to their problems, could always find an open door at their Kim Street home.
They were both born and raised in small Ontario towns, and lived most of their lives in Sarnia. But they became world travellers, visiting the former Yugoslavia while it was still a communist country, Spain, Portugal, many ports of call in the Caribbean, including St. Kitts-Nevis, and later England, France and even the former Soviet Union. As much as they enjoyed each of those trips, their hearts always returned to Kim Street, where Gerry lived for 63 years.
She was a long-time member of a rather exuberant ladies' bridge club -- the noise level of which occasionally forced her children to call down from upstairs bedrooms and ask for quiet so they could go to sleep.
Reid died in 1992. Gerry is survived by her sister Frances MacLean of Sarnia, Ont.; brother Norman Shillington of Chatham, Ont; sons Jim Sheppard (Leslie Shepherd) and John Sheppard (Karen); daughter Lynne Theberge; as well as grandchildren Nicholas Sheppard, Mark (Dawn) Fairbairn, Jay (Julie) Sheppard, Nathaniel Sheppard, Jenna (Mandy) Sheppard, Adam Theberge (Marie Carnovale-Theberge) and Michelle Theberge (John Middlebrook); many great-grand-children and one great-great-grandchild; plus many nieces and nephews and their descendants. Gerry was also predeceased by her two older brothers, Allan (Shill) and Arthur.
In lieu of flowers, donations if so desired, can be given to the Heart and Stroke Foundation, Diabetes Canada or to a charity of your choice.
In keeping with her wishes, there will be no visitation or funeral. At a later date, there will be private family burial in Sarnia, Ont., where she lived for 63 years.
The family wishes to extend its deep appreciation to the loving and caring staff at Ashwood Manor, where she had lived since January, 2017.
On-line condolences are available through www.mcfarlane-roberts.ca. McFarlane & Roberts Funeral Home, (519) 652-2020 in care of arrangements.
To send flowers to the family or plant a tree in memory of Barbara Sheppard, please visit Tribute Store