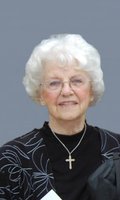 Marie Lovell
~~Dorothy Marie Lovell
Peacefully at The Dearness Home, London, on September 28, 2017 Dorothy Marie Lovell (nee Hayes) in her 95th year. Marie was born on October 6, 1922 the eldest daughter of the late Harold Hayes (1976) and Doris Hayes nee Shaw (1990). Marie lived in London and Byron for all of her life except from 1926 to 1929, when her family lived in Jacksonville, Florida. During the Second World War she did war work making Bren Gun magazines at Kelvinator. In 1944 she married RCAF Sgt. Gerald F. Lovell. They enjoyed 64 years of marriage until Jerry's passing in 2008. Marie worked as a Dental Assistant for Dr F. Cappa in Byron. She was very active at St. Anne's Anglican Church especially with the kitchen team for the Western Fair, quilter's Group and Altar Guild. She is survived by her daughter Lorraine and her husband Jean-Pierre Pichard of Switzerland and Donald and his wife Charmaine of Victoria, her Grandchildren Caroline, Robert, Gillian, Hilary, Claire and Joshua and Great-Grandchildren William, Edward, Alivia, Gemma, Kylan and Rosamund. Marie enjoyed visiting her children and grandchildren making 7 trips to Switzerland and numerous visits to Calgary, Winnipeg, Nanaimo, Yellowknife and Victoria. Marie was predeceased by her sister Vivian and her brother-in-law Ron Stacey. She is survived by her sister Gail and her husband Kumar Konanur of London and by numerous nieces and nephews.
A Celebration of Marie's Life will be held at St. Anne's Anglican Church, 1344 Commissioners Road, West, Byron on Saturday, October 7, 2017 at 3:00 pm. Donations to the St. Anne's Memorial Trust Fund gratefully acknowledged. McFarlane & Roberts Funeral Home, 2240 Wharncliffe Rd, London in care of arrangements. On-line condolences are available through www.mcfarlane-roberts.ca.